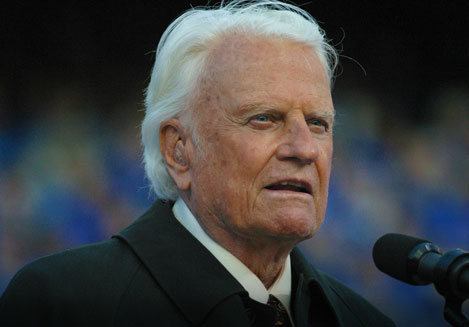 Atheism is often misunderstood by the religious—which is not surprising given how foreign disbelief is to the theistic outlook. A recent but typical example comes from longtime evangelist (and "spiritual advisor" to several U. S. Presidents) Billy Graham, Jr.
Many atheists, I find, reject God for one reason: They want to run their own lives.
It's an interesting perspective. Graham seems to think Christians (some percentage, at least) yearn to run their own lives, and that this desire to be free can lead them to embrace atheism. Perhaps Graham experiences a bit of this himself. Perhaps wistfully, on occasion, he has wished he wasn't bound by the dictates of his religion. Perhaps he's had the sudden thought, if I was an atheist I could do anything I wanted.
Running your own life, making choices, it certainly is appealing. Maybe Graham's right that Christians sometimes peevishly desire to chuck God for the freedom of atheism. But, for the vast majority of us who are atheists, he's got it all wrong. We reject God because—surprise!—we do not believe God exists. It's as simple as that.
Atheism is a conclusion about God's existence.
If you desire to "run your own life," you don't need anything as drastic as atheism. Rejecting God is like traveling a thousand miles further than necessary. There are plenty of religious, God-believing alternatives that can get you out from under the thumb of the know-it-all churches whose leaders like to dictate how their followers should live. If what you want is freedom from the pretenders who claim to speak for God, you've got a smorgasbord of options. There's Unitarianism, Paganism, Wicca, and New Age religions galore. You can stay away from organized religion altogether and become a Deist. Or just stop going to church. Atheism is not required.
Of course, atheists do notice the propensity of religious leaders to constantly claim they speak for God. We notice, and we criticize. We're pretty sure God doesn't exist, so we don't have a high opinion of the God-know-it-alls. Nevertheless, it does not require atheism to see their vanity. Easy enough to break free without ditching God.
If Graham and other religious leaders hope to stem the tide of modern atheism, their best bet is to figure out why there are so many atheists today. Here's a hint: the real reason has something to do with becoming unconvinced that God exists. Atheists are people who have looked at the world around us, and discovered that it makes more sense if there isn't a God than if there is.
Unfortunately for theism, it doesn't help that Graham and myriads of other religious leaders keep throwing dirt on God by insisting that the Bible, or Koran, or Torah, or Book of Mormon is His handiwork. Seriously flawed holy writ doesn't fit with a perfect Creator, which is why quite a few religious enthusiasts have suddenly discovered, half-way through Seminary, that their religion just isn't adding up.
Still, you don't have to chuck out God when you chuck out your religion of birth. There are plenty of alternatives far less drastic than atheism. So why the ongoing exodus to godlessness? The answer, I say, is that a lot of us have noticed that a natural, scientific worldview can be a consistent, intellectually satisfying alternative to supernaturalism. It just works, without all the drama, perplexity, and contradiction that comes with believing in God.
The Basic Questions of Life
Billy Graham has other misconceptions about atheism, it would seem. In the same piece, he writes,
For one thing, atheism has no satisfying answer to the basic questions of life — questions like "Who am I? Where did I come from? Why am I here? How do I know what's right and wrong? What happens when I die?" Atheism says we are here by chance, and life has no meaning or destiny. Taken to its conclusion, atheism ends in despair.
To those of us who are atheists, this sounds very familiar—religious people like to make such pronouncements. Meaningless life? Despair? Why would anyone ever want to adopt an outlook that can only lead to despair? Graham hopes, of course, that once the atheist comes face-to-face with the cliffs of despair, she'll come running back to God pronto.
And I'm sure this has happened—for someone somewhere. But the atheists I've met don't seem to know where these cliffs of despair can be found. When they hear or read pronouncements like Graham's, they usually react in one of two ways. Either they get upset at what feels like slander or misrepresentation—or they laugh.
Laughter is the better reaction, I'd say. Religious leaders like Graham don't intend to slander—it's just that they honestly don't understand atheism.
Maybe I can clarify things for their benefit. It's pretty simple. Religions and worldviews do (or at least ought to) address the who, how, what, why questions Graham presents. But that is outside the purview of atheism proper.
Atheism, as stated previously, is a conclusion about God's existence. It's not a religion or a worldview. Don't misunderstand me. I'm a firm believer that everyone ought to have a well-thought out worldview, if not a well-thought out religion, and this holds for atheists as well. Most atheists, I believe, do have a worldview—though not necessarily the same one.
We draw our answers to Graham's questions not from our atheism, but from our worldview. Why? Because it requires a worldview in order to have the kind of framework necessary. As I stated earlier, I think most new atheists today adopt atheism because they have discovered that a natural, scientific worldview simply works. It makes better sense of the world than does supernaturalism, and satisfies emotionally as well as intellectually. Science, it turns out, provides an engrossing, wonderful front-seat view of life.
When I answer Graham's questions…
Who am I? Where did I come from? Why am I here? How do I know what's right and wrong? What happens when I die?
I get my answers from my natural worldview, based on my understanding of current scientific knowledge. Who am I? A biological being, an individual organism who experiences wonderful sensations created by my very physical body as I move within the physical world. Where did I come from? Other species of organisms who have evolved over billions of years within Earth's biosphere. How do I know what's right and wrong? I know, because as my species evolved it acquired a suitable, self-beneficial moral nature. What happens when I die? I will cease to exist as an individual organism (although my body will persist until folded back into the biosphere by the activity of microorganisms).
Billy Graham may not like my answers. But they are honest and, for that reason, satisfying. When I became an atheist, I acquiesced to the reality that I am a biological being who will someday die, and that every aspect of my consciousness will cease to exist. Graham, who characterizes atheists as wanting things their way, seems to be the one who is incapable of acquiescing to the powers that be. Those powers are biological and physical, and they dictate that life is fragile, vulnerable, temporary, and that we die forever.
Graham, and the millions who follow him, can't accept that. They demand eternity. They invent God, and they fantasize that God will provide a heaven to their liking. Thanks to their supreme selfishness, they are willing to sell out life on Earth. They'll even sell out the biosphere, so long as they smell the sweet promise of eternal life.
Not me.
I prefer reality to fantasy. And so, I gather, do most atheists. It's not selfishness which animates us, but honest acquiescence to the reality of being.