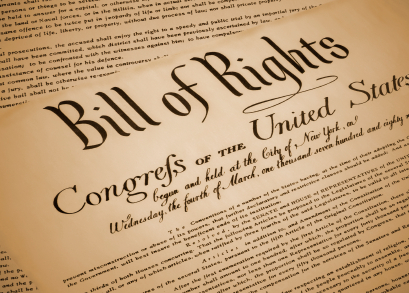 Senator Rand Paul is conducting a gallant filibuster of the Senate confirmation of John Brennan (architect of the US Government's drone program) as director of the CIA. Paul is filibustering because Attorney General Eric Holder stated that the Obama Administration considers it within their authority use the CIA drone program to target and kill terrorists on US soil.
Now it is true that Holder said the circumstances would have to be unusual to for them to choose a target on US soil—but that does not make the Administration's position any less frightening or outrageous.
That's because no less than the Attorney General of the United States has decided that the "war on terror" trumps any guarantee of due process in the Bill of Rights. And since the drone program is conducted by the CIA, it means the Obama Administration considers it ok for the CIA to conduct domestic operations, including kills on US soil. (It used to be completely illegal for the CIA to carry out operations within the US. Apparently the war on terror has changed that.)
What amazes me is the great number of Americans who just don't care. Perhaps they don't understand how precarious liberty actually is. James Madison (in many respects the "father" of the US Constitution as well the Senator who introduced the Bill of Rights to the first Congress) understood very well that the only thing his generation could offer future Americans was a flimsy "paper" barrier to tyranny.
Paper barriers—whether Constitutions or Bills of Rights—are only stout when people actually understand their value and care enough to stand up in defense of their principles. For those of us partial to liberty, Rand Paul has made himself an instant hero. He has stood up to defend the values that have kept us free 200+ years. We may not agree with many of his libertarian and conservative positions, but on this we are with him 100%.
Here is Senator Paul explaining why due process is so vital to freedom.
[President Obama] is not a judge. He's a politician. He was elected by a majority, but the majority doesn't get to decide who we execute. We have a process for deciding this. We have courts for deciding this. To allow one man to accuse you in secret, you never get notified you have been accused. Your notification is the buzz of the propellers on the drone as it flies overhead in the seconds before you're killed.
Paul does not object to using drones to carry out attacks in combat zones. (I should point out, however, that many of the drone attacks the US has conducted under Obama have been outside any legitmate "combat zone"—they have occurred outside the borders of Iraq, Afghanistan, even Pakistan.)
The Obama Administration apparently believes that "combat zone" means anywhere they think they've identified a terrorist. That is what has led to this unprecedented assumption that the due process guaranteed in the Constitution simply doesn't matter. The whole world is their war zone.
Senator Paul again,
But when people say, 'Oh, the battlefield's come to America' and 'the battlefield's everywhere,' 'the war is limitless in time and scope,' be worried, because your rights will not exist if you call America a battlefield…
He is undoubtedly right about that.
Now, it's likely that the Obama Administration has no concrete plans to launch drone attacks within the US. As Eric Holder indicated earlier today, any plans at this point are only "hypothetical". But it is frightening enough that our government now claims the right to execute people inside our borders without even a pretext of Constitutional due process.
And this "right" will be passed on to the next Administration, and the next, until the day arrives when domestic drone strikes against government defined "terrorists" actually begin.  By then, citizens won't even bat an eye.
At that point the paper barrier called the Bill of Rights will be worthless.